Make a nice and tasty Christmas treat for your birds! Hang it up and take a secret peek at the feathery friends who come to feast.
You'll also learn how birds overwinter or migrate and what they eat in different seasons
Booking information
In AHHAA
Group size: 10-25 people

Suitable for age 7

+

Minimum time for preparation: 15 minutes




Minimum time for cleaning: 15 minutes

Possibility for 2 simultaneous workshops?

Yes

(more information upon booking)
Book for a
school or
other organization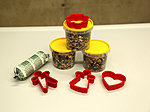 Back
Tickets
Entrance with science centre ticket
This event is not in the program on the selected date. Next events:
The program is available up to 7 days in advance.
More workshops
Workshops
Learning nuts and bolts!
What are those nuts and bolts and what are they used for? In this workshop we will learn how to use nuts and bolts and properly and what tools can be used for that. In the end of the workshop we will also make a beautiful keychain as a beautiful gift for dads!

Workshops
Microscopy
In this workshop we are going to see some of the smaller creatures really up close! We will see with our own eyes what is the body structure of insects and make certain what is the difference between spiders and insects. Moreover, we will discuss the reason behind so many people being afraid on these little animals.

Something is definitely going on, but more detailed information will be available a week before the selected date.
These events are not in the program on the selected date.